Collectors Accessories
All items are selected pieces from sporting history, or are relics or memorabillia from famous sportsmen and sportswomen! All items are original and/or unique, proven by a certificate of authenticity is provided with each article. Donít forget to visit our virtual AGON-Antique Sporting Shop and our AGON-Auction pages, where you will find further top rare articles!
Categories AGON Football Gallery - Collectors Accessories
We offer nice articles in the following Collectors Accessories-categorie: show cases, pouches... for collectors [more]
Let's see what we have (examples...)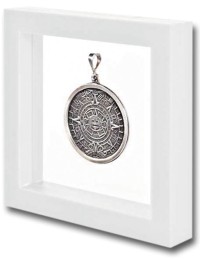 Misc.
Collector's Flexible Presentation Show Case

Nimbus Showcase ECO white: this amazing showcase is the state of the art method for presenting coins, medals, certificates, stamps, pens, watches and many more memorabillia. You get the immpression the enclosed object is "floating in the air". Inside the frame 2 flexible silicone membranes hold the item softly, and exactly where you place it! The object can be seen and studued clearly from both sides as the silicone adjusts to the reliefs of the object, place it as an eye catcher, or change the object as you wish! Use your imagination, ther are no limits. Simply open the frame (full 180 degrees) place the object of you choice on one of the membranes, close the case, the plastic snap click fastner keeps the case closed fastner keeps the case closed and your object stays exactly where you placed it! Attractive white frame with 2 silicone menbranes, size 100x1000x24mm. Manafactured by NIMBUS. Without contents! Condition: A. (Freightweight ca. 0,2 kg) [more]

Collector's Presentation Show Case

This amazing showcase is the state of the art method for presenting football shirts, the souvenir tee-shirt from the last pop concert or baby's first romper suit! It works like a 3D picture frame holding items with a thickness of up to 5cm! Shirts cam be hung on the hanger provides and look as if they are floating in the frame, other items, model cars etc can be fixed to the stable black rear of the frame. It can of course be used as an elegant picture fram.The easy to open frame allows a change of contents as you please, the best way to present your memorabillia dust free and in an attractive way! Delivered with clothes hanger, template for drilling the mounting holes and detailed instructions. Size 70x90cm, sprayed aluninium frame. Supplied without the football shirt!!! Condition: A. (Freightweight ca. 4 kg) [more]

Colllecter's coin/medal plastic pouches

Plastic pouch wih closing flap for coins up to 60mm in diameter, size 65x65mm, 100 pcs (empty). Condition: A. (Freightweight ca. 0,3 kg) [more]
For your free copy of our comprehensive catalogue
AGON Football-Gallery - Onlineshop